333 East Highway 290 Suite #405
Dripping Springs, TX 78620
Next to Great Clips

(512) 829-4782
Closed for business today.
| | |
| --- | --- |
| Monday | 11:00 am - 4:00 pm |
| Tuesday | 11:00 am - 4:00 pm |
| Wednesday | 11:00 am - 4:00 pm |
| Thursday | 11:00 am - 4:00 pm |
| Friday | 11:00 am - 4:00 pm |
| Saturday | 11:00 am - 4:00 pm |
| Sunday | Closed |
LATEST UPDATE: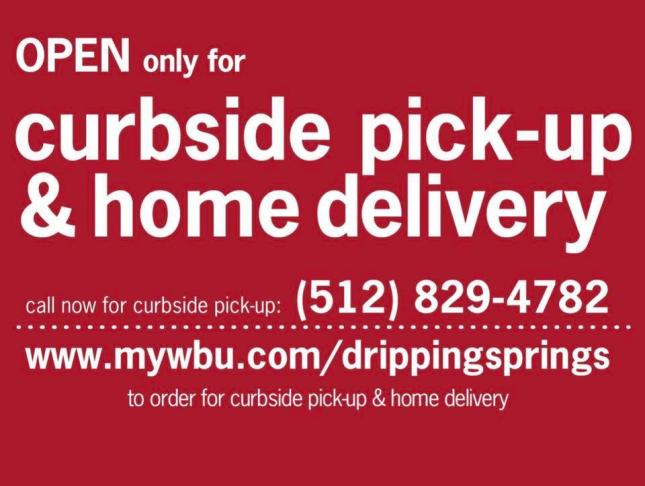 As the situation with Coronavirus (COVID-19) continues to unfold, we want you to know that the well-being of our customers, community and staff continues to be our top priority.
We have learned that selling food for wildlife is considered an essential service, so we are able to RE-OPEN OUR CURBSIDE SERVICES as long as we follow the CDC recommendations for safety against COVID-19, including social distancing!
Curbside Pick-Up is as easy as 1-2-3...
1) Place your order by calling us at (512) 829-4782 from 11 am - 4 pm, Monday through Saturday or place the order online at www.mywbu.com/drippingsprings and select "store pick-up" at checkout.
2) Come to the store within our new hours and let us know when you arrive by calling us at (512) 829-4782. Provide us with a description of your vehicle, then pop open your trunk when you see one of our staff approach and wait in your car.
3) We'll bring your order to your car and place it in your trunk!
No personal contact required, but we'll still smile and wave at you... As much as we'd love to hug our customers, we must refrain from doing so and it's very important for us to also maintain a safe distance of 6-feet from each other at this time.
As an alternative, please continue to shop our Wild Birds Unlimited of Dripping Springs Online Store! www.mywbu.com/drippingsprings
(Shipping is FREE on orders of $75 or more that ship within 150 miles)
*If you are a DSC member, don't forget to register on our online store with the same email address associated with your in-store account to receive your member discounts!
There are a few favorite items that are not on our online store such as, live mealworms and ear corn, but we can add these to your order if you'll just call us.
Again, our temporary Curbside Pick-Up Hours to call and pickup your order are:
Monday - Saturday: 11 am to 4 pm
Thank you for being patient with us as we continue to navigate during these changing times and thank you for all of the support you have shown our family business.
We miss you all more than words can say...
Stay safe and healthy over the coming days.
Sincerely,
Manuel, Anna, Amanda, Hector and the WBU of DSTX Crew